10 Best Bidet Toilet Seats in 2023
[Expert Rankings]

Updated October 31, 2023
Trying to find the best bidet toilet seat? At BidetKing.com, we use our expertise to bring you the best bidet seats on the market today. Unlike other best bidet lists you'll find online, we're actual bidet experts with both extensive hands-on experience and over a decade of customer feedback.
How did we rank these bidet toilet seat models? To curate this list of the best bidets, we considered pure performance, customer feedback, our expert testing, reliability, repair rates, and overall build quality to choose our 10 favorites. We also took into consideration the various price points of each bidet toilet seat to give a more balanced ranking because value is so important. Without further ado, we present BidetKing's 10 best bidet toilet seats of 2023.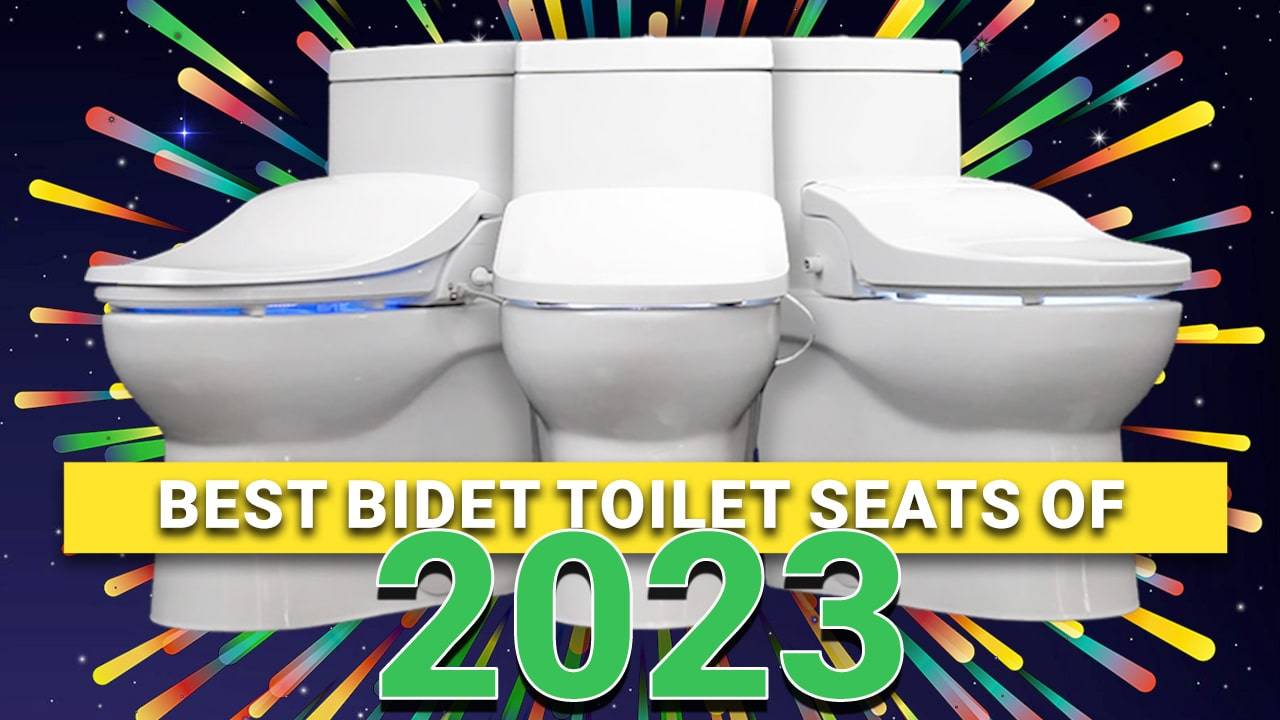 #10 Alpha iX Hybrid Bidet Toilet Seat [Best Value]
At #10, the Alpha iX Hybrid once again makes its way onto our list for 2023 thanks to its unmatched value. With its tremendous value proposition and full feature set, the iX Hybrid is the best selling bidet seat in the value category. At under $300, this entry level model combines endless warm water, an LED nightlight, a stainless steel nozzle, and warm air dryer. The iX Hybrid features a specially contoured lid with a contemporary, low-profile look and is the best performing seat at this price range. You'd be hard pressed to find a more feature packed bidet seat at this price and is our pick for the best bidet toilet seat under $300.
#9 Eco Nova Bidet Toilet Seat [New]
Coming in at #9, we have our first newcomer of 2023, the Eco Nova. Featuring a tankless heating system, UV nozzle sterilization, and an excellent dryer, the Eco Nova came to play. It has a low profile design at just 5.2" in the rear and its sittable lid lets you know it's durable. The Eco Nova has a blue LED nightlight that shines into the bowl and a sleek rose gold remote control with radio frequency for extended range. Its cleansing spray pressure is above average and was very effective in our testing. It's a premium level bidet seat with strong performance and we expect it to gain popularity.
#8 Brondell Swash 1400 Bidet Toilet Seat
Coming in at #8, we have the Swash 1400 from Brondell. The Swash 1400 remains one of the most popular bidet seats in the premium category. With its sturdy build and intuitive remote control, the Swash 1400 has a strong fan base. Its modern, slim design is very appealing and its sittable lid has always been a customer favorite. The Swash 1400 has other highlights like its user presets, LED nightlight and unique wide spray adjustments that make it a fan favorite. Brondell's build quality has always been top notch and the 1400 bidet toilet seat continues the tradition.
#7 Brondell Swash T44 Thinline Bidet Toilet Seat [New]
At #7 we have another newcomer to our list, the Brondell Swash T44 Thinline. The T44 is Brondell's newest flagship bidet seat with killer looks and luxury features. The T44 is just 4" tall in the rear, the slimmest design currently on the market.   With an easy to use remote control and multi colored LED accent light, the T44 is here to take Brondell's Swash lineup into the future. It features 3 different wash modes, a stainless steel nozzle, sittable lid and did we mention it's only 4" tall in the rear?? Time will tell whether the T44 can achieve the same success as the Swash 1400, but we're certainly fans.
#6 Bio Bidet Discovery DLS Bidet Toilet Seat
At #6 we have the Bio Bidet Discovery DLS. The DLS boasts several high end features including: a motorized seat and lid, UV sterilization, and powerful warm air dryer. Its modern design is also special, as the DLS is just 4.7" high in the rear. This is by far Bio Bidet's slimmest bidet seat and creates a very sleek silhouette. It also features a dual sided remote control, a stainless steel nozzle, and solid spray pressure with endless warm water. Despite its high price point, the Discovery DLS still presents a strong value with its performance and industry leading 5 year warranty.
#5 TOTO Washlet C5 SW3084#01
The TOTO C5 washlet is TOTO's best selling seat in the US and its popularity and quality keeps it at #5 on our list. Its functionality is top-notch like most TOTO washlets and the addition of the eWater+ system creates a more hygienic experience. Compared with previous generations, the C5's slimmer profile has proven to be a wise design choice. Its remote control is easy to use and the build quality of the seat is high. We wish it provided endless warm water and carried a longer warranty like the other members on our list, but it still presents a decent value at its price range.  
#4 Alpha UX Pearl Bidet Toilet Seat
The Alpha UX Pearl was the fastest growing model at BidetKing.com over the last year and its stellar combination of sleek design and reliability keeps it at #4. The flagship bidet seat from Alpha Bidet blends the latest in hygiene technology with an ultra slim design. At just 4.5" tall in the rear, the UX Pearl is slimmer than the vast majority of bidet seats on the market, matching the industry leading TOTO S550e. It also offers above average spray pressure and some luxury features like an air plasma bowl sanitizer, LED nightlight, deodorizer and user presets. Its unique arc shaped stainless steel nozzle minimizes contamination and splash-back, while also providing better reach during a front wash. Combining a modern form with advanced functions, the UX Pearl is sure to rise up the rankings in future lists.
#3 TOTO S550e Washlet SW3056 [Highest Quality]
Coming in at #3 is the TOTO S550e washlet. This flagship model from the global leader in bidet seats, TOTO, is the most advanced bidet toilet seat on the market. With high end features like a motorized seat and lid, ultra slim design, touch sensitive remote, and TOTO's unique eWater + system, it's easy to see why the s550e is the pinnacle of bidet seat design. TOTO improved the spray pressure of the S550e washlet over previous generations with its 'hard spray' function and is now on par with other high performing cleansing functions on the market. While its quality and performance are both best in class, the S550e's very high price tag and short 1 year warranty prevented it from placing higher on our list.
#2 Alpha JX Bidet Toilet Seat [Best Mid-Range]
At #2, the Alpha JX continues its ascension to bidet seat glory as it racks up awards and accolades. With endless warm water, an LED night light, a sturdy sittable lid, and a 3 year warranty - the Alpha JX has value that's hard beat. It has comparable build quality to bidet seats in the $600 range and users love that it's very quiet during operation. It's no wonder why the JX has been BidetKing's fastest growing model the last 2 years running. Also, its slim design allows it to fit some popular 1 piece toilets (Santa Rosa, San Raphael) that are not compatible with other bidet seats. The Alpha JX continues to fill a niche for customer that are seeking an easy to use, high quality bidet toilet seat with 3 year warranty that doesn't break the bank. The JX's spray pressure is above average, and its convenient shortcut buttons on the remote make very easy to use for all ages and disabilities.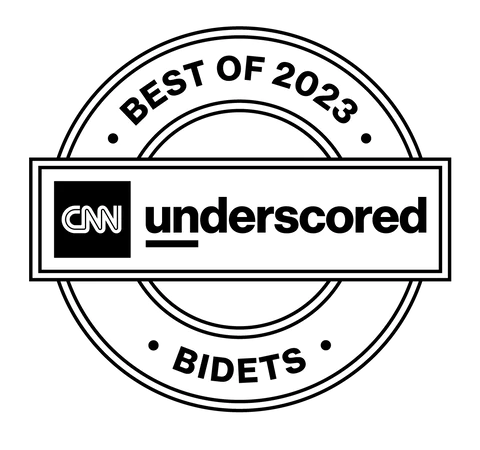 Don't just take our word for it. In a rigorous, annual test of the most popular bidet seats on the market, CNN Underscored has named the Alpha JX the #1 Best Bidet Seat for 3 years running from 2021 - 2023. The JX beat out the competition from TOTO, Bio Bidet, Brondell and more.
"The Alpha JX bidet seat was the best overall bidet seat we tested, featuring the most desirable technologies at the lowest price." [read more]
#1 Bio Bidet BB-2000 Bliss Bidet Toilet Seat [Best Overall]
And lastly, retaining its spot as the #1 bidet toilet seat of 2023, is the Bio Bidet BB-2000 Bliss. This uber popular bidet seat is our top selling model and its excellent performance and reliability are what give it our #1 spot for three years running. The BB-2000 has superior spray pressure to other bidet seats in its category and the result is a very effective cleansing experience for users up to 400lbs. It also has a strong enema function with endless warm water, a stainless steel nozzle, deodorizer, dryer and more. While the TOTO s550e has more high end features than the BB-2000, we had to give Bio Bidet the edge for its generous 3 year warranty, the more affordable price point near $600, stronger spray, and this model's track record of reliable performance.
Looking for a bidet toilet combination? Check out our Best Smart Toilets of 2023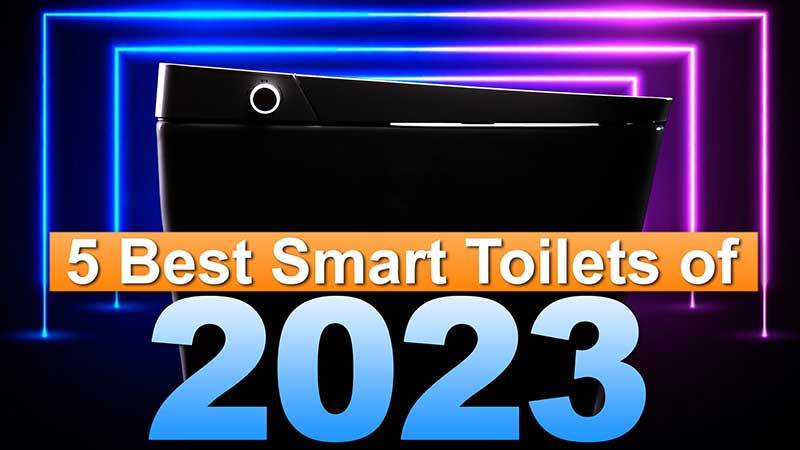 5 Best Smart Toilets of 2023
Just like our expert rankings for bidet seats, we've sorted out the 5 best smart toilets on the market in 2023. They combine the comfort and technology of a high end bidet seat with a beautiful and sleek one piece toilet. The result is a seamless and modern bidet toilet setup. There is no need to measure your existing toilet for bidet seat compatibility as a smart toilet replaces your existing toilet altogether.

Popular Head to Head Bidet Toilet Seat Comparisons

In-Depth Bidet Toilet Seat Reviews with Video
Looking for some in-depth bidet toilet seat reviews to help you buy the best bidet toilet seat?

How to Buy a Bidet Toilet Seat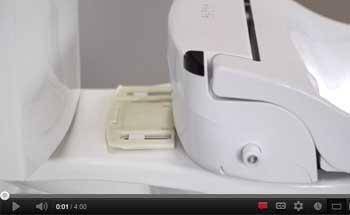 Installing a bidet seat is often easy enough for DIY installation. Check our guide to see if you can handle it or would need to hire a service professional.
Is your toilet compatible with the bidet seat you want? 90% of residential toilets work just fine, but some 1 piece toilets cause issues for bidet toilet seats.

How to Compare and Buy the Best Bidet Toilet Seat

Modern bidet toilet seats are transforming the way we think about bathroom hygiene. The more you think about how we cleanse ourselves on a daily basis, the less toilet paper makes sense. When our hands get dirty, we wash them. Our rears should get the same treatment. When you begin comparing bidet toilet seats, the number of choices on the market can be confusing. How do you find the best best seat for your needs? How do you compare all the different bidet models with one another? Comparison charts can help you differentiate the number of features between bidet seat models, but they don't tell the whole story. If you want to learn how the experts compare and buy bidet toilet seats, keep on reading!
Most electronic bidet toilet seats have a set of standard features. These include: warm water, heated seat, warm air dryer, front feminine wash and rear wash modes. The water temperature, spray pressure, nozzle positioning and seat temperature are adjustable. All bidet seats are installed in virtually the same way and have slow closing seats and lids. To truly compare and buy the best bidet seat, you need to look beyond these standard features and consider other factors like toilet fitment, spray pressure strength, brand reputation and reliability, warranty support, and other unique features.
Beyond the set of standard features, bidet seats can also have some unique features that set them apart like an automatic opening/closing lid, LED night light, enema function and more. When comparing the various bidet models, you'll want to decide which of these features are most important to you. These features may be very unique to a few bidet models and in some instances can make your buying decision very simple. Other times, you may realize that you don't care about these extra functions and you'll need to compare other factors instead.
To help you compare these more unique bidet seat features, here's a list of them and some popular bidets that have them:
Enema function / High spray pressure
LED night light
Automatic opening/closing seat/lid
Sittable lid
User presets on the remote
Fits most 1pc toilets
Premisting of the toilet bowl
Before you buy a bidet seat, you should first make sure you have a compatible toilet. To find out what kind of toilet you have, check our fitment guide here. 2 piece elongated toilets have the most room for bidet seats. If you have a 1 piece toilet, wall mounted toilet, or a designer "skirted" toilet, you'll need to be extra careful when selecting your bidet seat. For example, popular 1 piece toilets like the Kohler San Raphael and Santa Rosa have VERY limited space to fit a bidet seat. Only specialized models like the Alpha JX Bidet Seat will fit. If you don't know what kind of toilet you have, take a picture of it and email it to support@bidetking.com for help.
Every bidet seat has a different feeling spray - even within the same brand. The strength of the spray is something that a lot of people don't consider when buying a bidet seat, but is a very important feature for some users. For first time users, this isn't as important of a deciding factor because you don't have anything to compare with. For experienced users, this can be crucial.
The spray pressure of a bidet seat is a very personal preference and while some prefer a gentle spritz, others want a blast. Most models have good sprays that get the job done well enough. For those looking for something extra, you'll want to buy a bidet seat that specializes in higher spray pressure. The Bio Bidet BB-2000 spray is very strong, but the BB-1000 is the absolute strongest you'll find.
Brand Reputation and Reliability
Everybody has a horror story about an expensive item they purchased that had issues. Hey, things happen. But, what makes the experience truly horrible is when the company that produced it doesn't stand behind it. Buying a bidet seat is no different. While you can find plenty of fly-by-night bidet brands and cheap alternatives, the last thing you want to do is to buy a $500 bidet seat only to find out a few years down the line that the brand is no longer around to service your unit.
At BidetKing.com, every brand we carry is fully vetted to offer great service for our customers. We've dropped several brands over the years due to faulty products and poor service. Buying a bidet seat from a reputable brand gives you the peace of mind that you're getting a reliable product with solid support. The brands we carry have all been in business over 10 years (including us). A good quality bidet seat should last 6-10 years with normal usage and good care.
Related to brand reputation, warranty coverage is another important bidet comparison factor. A strong warranty is always a nice thing to have in your back pocket in case you find hardships with your bidet toilet seat down the line. Most models offer one to three years of warranty coverage, and some also have optional extended warranties.
When comparing bidet seats, be sure to pay attention to what's actually covered as part of the warranty. Generally, in the event that repair is needed, parts and labor costs are covered, but shipping costs are not. Also, some models have 100% coverage of parts and labor costs during the warranty, while other models have limited coverage that degrades each year.
5 Major Mistakes to Avoid When Buying a Bidet Toilet Seat
A bidet toilet seat is not an item you can simply go out and purchase on a random desire. Buying a bidet toilet seat usually takes research and a bit of planning. You want to make sure the bidet seat is compatible with the configuration of your bathroom as well as the size of your toilet to avoid the hassle of returns and disappointments.
At BidetKing, we've put together this list of the top 5 mistakes to avoid when you decide to buy a bidet toilet seat. We cover installation pitfalls, fitment issues, and other problems in the buying process so you can enjoy your bidet seat to the fullest. A bidet toilet seat can transform your bathroom into a blissful spa-like experience, and if you avoid making these mistakes, the buying process will be smooth sailing as well.
Not Having an Electrical Outlet Nearby
The vast majority of North American bathrooms do not have an outlet near the toilet. Although it may seem funny, there are a few individuals who purchase an electronic bidet seat and have no idea that they need an electrical outlet. Electric bidets do not run off of batteries and all models need to be plugged into an outlet. So what do you do if you don't have an outlet immediately near the toilet?
The cheapest and easiest method is to simply use an extension cord. All bathrooms are setup a little differently, but if you can route an extension cord under/through a cabinet or along a baseboard, then this problem is easily solved. There are several elegant ways to hide the cord as it makes its way to the bidet toilet seat. Any excess cord can be wrapped up behind the tank.
The second method is to have an electrician install a new outlet near the toilet. This is obviously more costly and depending on your bathroom setup, can be a fairly large task.
Bidet toilet seats for the North American market run on a standard 110v and 15 AMP circuit. 20 AMP circuits or dedicated circuits are not required for function of the unit, but are preferred by some.
Purchasing the Wrong Size Bidet Seat
There is no more common issue than purchasing the wrong size bidet seat. It is very important to understand whether your toilet is compatible, and if it is, what size is it (round or elongated)? In order to properly determine this, click here to view our fitment guide.
In some instances, you can tell simply look at your toilet and tell whether its round shaped or elongated. Other times, you'll definitely want to measure the toilet carefully, especially with older toilets. We strongly recommend all new customers review the toilet fitment guide to avoid buying the incorrectly sized bidet toilet seat and having to deal with an exchange.
Buying Less When Wanting More
You should treat buying a bidet toilet seat as you would other heavy duty appliances in your home. Nobody bats an eye at spending $700-$1000 on a washing machine that's used once or twice a week. But, when you start shopping for a bidet seat, people get sticker shock just because it's a toilet seat. However, bidet seats are appliances that are used every single day, multiple times a day, often by multiple members of the household. Just because "it's a toilet seat" doesn't mean you should buy the cheapest option possible. Think of buying a bidet seat like a long term investment regarding your body hygiene. You want something dependable that you can use daily on yourself for as long as a time period as possible.
Buying a bidet should not be a race to the cheapest option, as doing so generally has consequences. One of the biggest issues when buying a lower-priced bidet is that they usually tend to come from brands with poor service and/or support. The biggest issue with buying from bottom of the barrel dealers are warranty and servicing. Having an item short out only after a few months of purchase is not ideal. What's worse is having an item that cost hundreds of dollars stop functioning with no type of manufacturer's presence in the US, or at all for that matter.
When shopping for a bidet toilet seat, make sure you consider brand presence, quality craftsmanship, and lasting performance instead of focusing solely on price. This doesn't mean that you need to spend $1,000 on a bidet, but like all things in life, you get what you pay for. With an appliance that gets as much use as a bidet seat, look for quality and enjoy years of great hygiene.
Not Knowing the Difference Between a Tank, Tankless, and Hybrid Heating Bidet
A key feature to know when buying a bidet toilet seat is what kind of water heating system it uses: tank, tankless, or hybrid. The difference in performance can influence the overall experience of your bidet seat. But what does each type implicate? Let's go through them and their individual benefits.
When choosing a bidet seat with a tank type system, the biggest benefits are that the water is warm immediately, and they tend to be the most cost effective models. Since the water is pre-heated in an internal reservoir it is available immediately. The downsides to a reservoir (or tank heating) is that the warm water is limited to the size of the tank, which is about 30 seconds, and the seat is using energy while not in use. Another downside for some is that in some instances the reservoir system may make the bidet seat slightly bulkier in the rear.
Bidet seats with tankless heating systems are great because they produce endless warm water. The bidet seat could run all day and still produce warm water if you please. The one downside is at its initial start up. Since tankless bidets do not have an internal tank where the water sits nice and warm, there is going to be an initial bit of room temperature water that gets sprayed before it gets really warm. This initial spray of cooler water does not bother the vast majority of users, but in certain colder climates, it can be an issue. An additional upside to tankless heating systems is that since they do not have a reservoir within, the tankless units tend to be a bit sleeker and they are much more energy efficient.
Hybrid heating systems have the pros of both tankless and tank units, with almost none of the bad. Hybrid heating bidet toilet seats will start warm as they have a small reservoir within, while also staying warm as they also have the tankless heating system. The overall size of these units don't really increase as the reservoir within hybrid units are smaller because the tankless portion of the unit has the capacity of quickly taking over. The downside is similar to the tank type seats in that they are not as energy efficient as tankless models.
Having Unrealistic Expectations
Bidet toilet seats are incredible hygiene devices that can literally change your bathroom habits. However, they are not miracle products. At their core, bidet seats are designed to spray a jet of warm water at your rear to help you clean yourself after you use the toilet. They are not meant to clean your whole bottom, diagnose illnesses (yet), clean your bowl, and/or do your taxes. Don't get us wrong, buying a bidet will be a positive life changing experience, but a huge mistake some users make is having unrealistic expectations for what they can do.
The Spray - A bidet toilet seat's spray is a focused jet of warm water that's meant to spray an area roughly the size of a half dollar. Some users have the expectation that a fire hose will be released from the bidet seat and clean your entire bottom with great intensity. That's not what a bidet seat does. That much spray pressure is not needed to get a good cleanse, a significant flow will easily do the job. Spray pressure on most bidet seats is strong enough to get you clean in almost all instances. Although it is true that some bidets will offer greater spray pressure than others, it is likely that you will not have the need to crank it all the way up to get the job done. For those who do seek high pressure units those options are available. If an electric bidet seat is incapable of satisfying the pressure you wish to achieve there is always nonelectric units that run off the PSI of your home. You would need to sacrifice luxuries for this, but this is a last resort for those who want the strongest spray pressure available.
Dryer - When purchasing a bidet seat some individuals have this idea that the bidet seat's warm air dryer will be something like a commercial hand dryer found in public restrooms. This is not the case as high rates of hot air that close in proximity to sensitive areas may not be a safe idea. Dryers on bidet seats are designed to be safe and work slowly over time. A dryer is fully capable of drying an individual, although you must sacrifice a few minutes of your time. For those who do not wish to spend that much time on the john that is where your old friend toilet paper helps to make a quick escape.
User Presets - The last one on our list is presets. Presets are a feature that some look for, however some of the expectations regarding presets are far too ambitious. Bidet presets are very simple in regards of remembering nozzle position, water heat settings, and spray pressure. Presets will not remember the exact wash oscillation or any other modes, neither will it remember any kind of sequences for your wash. You will still need to choose what you would like in regards to oscillation, pulsing, or any other shifts in spray.
The best way to avoid making mistakes while buying a bidet toilet seat is by doing the research. It is important to be realistic about expectations, knowing your price range and what you'll be getting at the desired price range, understanding sizing of a bidet seat, and knowing what features you need. Buying your first bidet toilet seat will be a transformative experience. Avoid these 5 major mistakes, and you'll be savvy bidet user in no time!