5 Best Smart Toilets in 2023
[Expert Rankings]

Updated August 21, 2023
Are you looking for the best smart toilet (aka bidet toilet combo)? At BidetKing.com, we use our expertise to present the best smart toilets on the market today. We're actual bidet experts with advice you can trust as we draw on our extensive experience and 13+ years of customer feedback.
How did we rank these bidet toilet combos? To curate this list of the best bidet toilets, we considered pure performance, aesthetics, customer feedback, our expert testing, reliability, repair rates, and build quality to choose our 5 favorites. We also evaluated the wide array of price points of each smart toilet because value is so important. Without further ado, we present BidetKing's 5 best bidet toilets of 2023.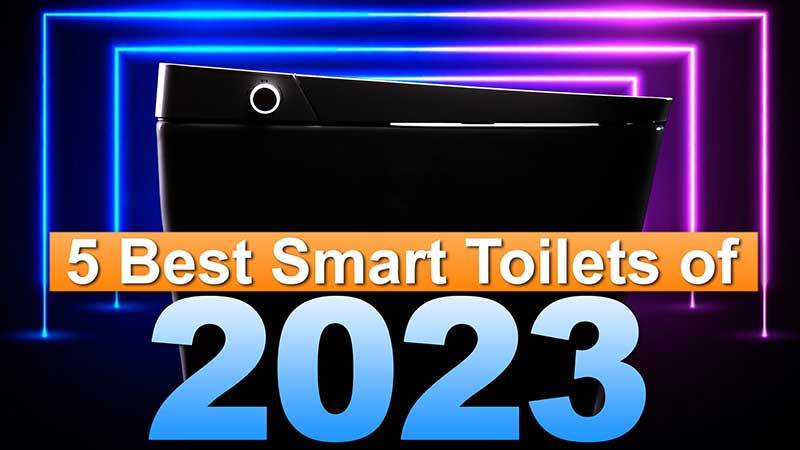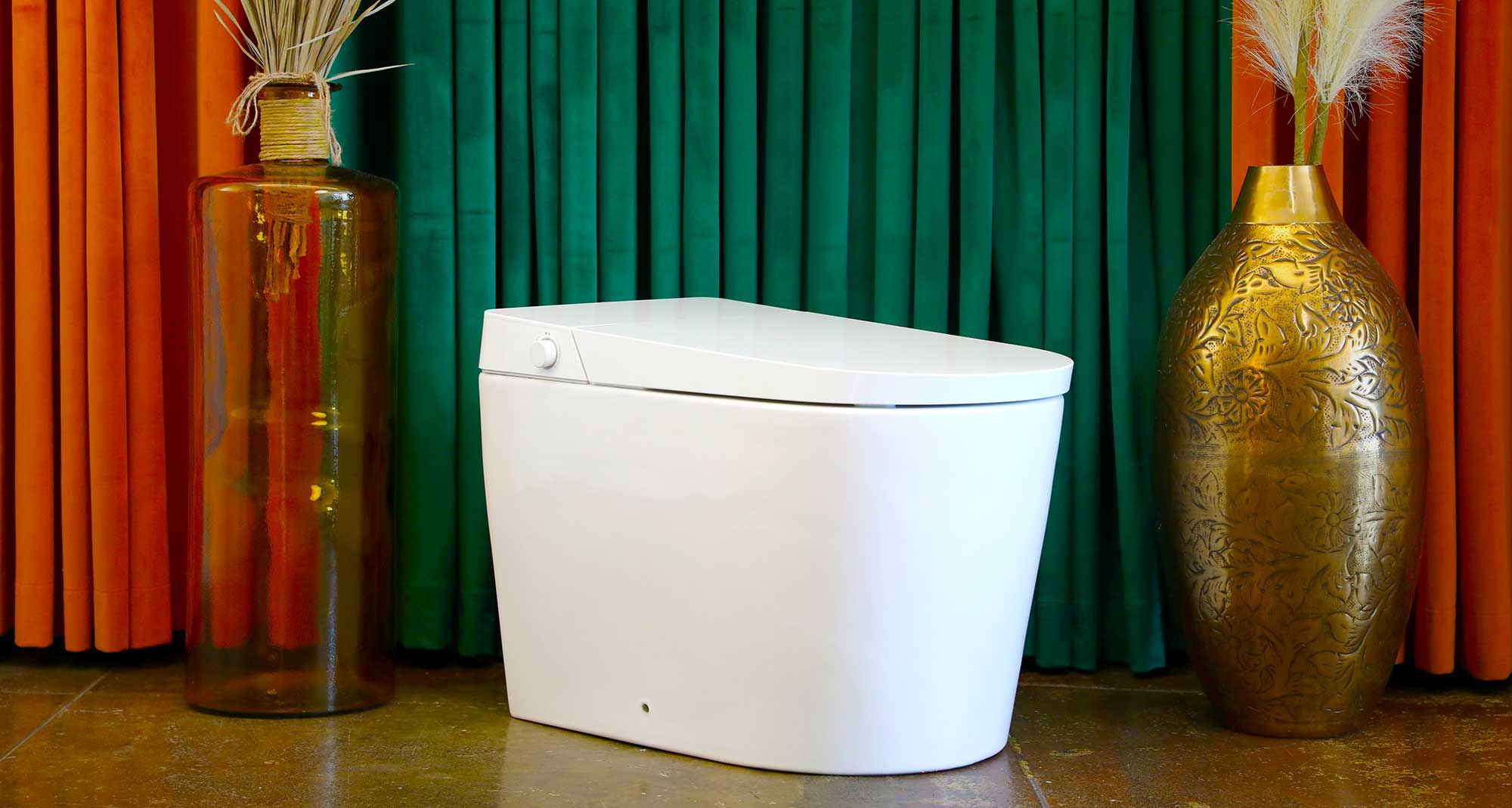 What is a Smart Toilet?
For those looking for the full, luxury bidet experience, there is no better option than a bidet toilet combination. A bidet toilet combo, also known as a smart toilet, is the peak of bathroom luxury. It combines the comfort and technology of a high end bidet seat with a beautiful and sleek one piece toilet. The result is a seamless and modern bidet toilet setup. There is no need to measure your existing toilet for bidet seat compatibility as a smart toilet replaces your existing toilet altogether. This is the perfect option for those remodeling their bathroom or for those who want to transform their bathroom into a luxe spa.
So, which bidet toilet combo is the right one for you? Continue reading as we break down our 5 best bidet toilets. We will discuss their overall appearance, their features and highlights. So, with all this said, let's jump right into it.
Standard Features Included on All Models
Every bidet toilet combo on this list will come with a list of standard features regardless of their price point or model. These features include unlimited warm water spray, heated seat with temperature control, warm air dryer, adjustable nozzles, nozzle oscillation, deodorizer, motorized seat and lid, automatic flushing, and wireless remote controls. What sets them apart from each other are unique features, warranty, build quality, reliability and that luxury aesthetic.
#5 TOTO G450 Washlet MS922CUMFG#01
The TOTO Washlet G450 kicks off our list at number 5. This integrated bidet toilet is TOTO's entry level model. It has a convenient compact design with a minimalist appearance that is sure to impress and intrigue guests. It has the great build quality TOTO is known for but does lack some higher end features like eWater+ and a nightlight when compared to its Neorest counterparts.
That being said, the TOTO Washlet G450 is still loaded in perks like an automatic dual flush system (0.8gpf / 1.0gpf). As the name implies, the G450 will automatically flush when you are done using it. It can sense both standing users and sitting users and will automatically choose the flush size based on how it's used. Manual flushing is activated via the remote control. The TOTO G450 has a Pre-mist system that lays down a fine mist over the toilet bowl when a user approaches the toilet. This creates a slicker, non-stick surface so waste slides right off when flushed. It also features a backup battery option so it can be manually flushed during power outages.
While its bidet functionality is excellent, the G450 flushing performance has been questioned by some users. Also, it has a short warranty period of only 1 year. These factors combined with its high price point for an entry level model prevented the G450 from placing higher on our list.
#4 Bio Bidet Discovery DLX
Coming in at number 4 is the Discovery DLX, Bio Bidet's top of the line smart toilet. Aimed at those who want the very best in bidet technology and comfort without breaking the bank, the Discovery DLX is jam packed with high tech features. It has a sleek, fully skirted design that is sure to look great in any modern bathroom, while also being easy to clean. A blue LED night light adds to the DLX's fresh appearance and will come in handy during those late night bathroom visits.
The DLX also has a handy kick button that can raise the lid, raise the seat and then flush the toilet with consecutive presses. A UV light is used to sanitize the nozzle in between uses, ensuring it stays clean and hygienic. Its spray pressure is solid and the DLX's warm air drying capability is one of the best we've tested.  
The DLX has a motorized seat and lid, allowing you to raise and lower them via buttons on the dual sided remote control. But, unlike other smart toilets in this list, it lacks a proximity sensor so the lid won't open automatically when you approach. That being said, the DLX still presents an excellent package of features and quality at its price point. Combined with its industry best 5 year warranty from Bio Bidet, it's no wonder the DLX made our list.
#3 Kohler Veil K-5401-PA-0
The Kohler Veil integrated bidet toilet comes in at number 3 on our list. This smart toilet is from industry powerhouse, Kohler, and is one of their flagship bathroom products. One look and it's obvious that the Veil has the aesthetics and features one would come to expect in a top of the line luxury smart toilet. It has a truly unique and futuristic one piece design that is capped off by its blue LED nightlight. The Kohler Veil is considered by many to be the most attractive looking bidet toilet combo on the market today.
The Kohler Veil is loaded with premium features with a few standouts in particular. It uses both a UV light and electrolyzed water to sterilize and treat the nozzle during a cleaning cycle. This double treatment is definitely unique in the industry. Also, its wireless remote control oozes pure luxury with a touchscreen LCD design. Reminiscent of a smart phone, the remote control design alone is a showstopper.
While the Kohler Veil's design and features are certainly best in class, its high price tag and bidet performance leave some room for improvement. Backed by a generous 3 year warranty and Kohler's excellent service, we strongly feel the Veil is still one of the best bidet toilets money can buy.
Coming in at number 2 is the UXT Pearl from Alpha Bidet. This beautiful combo is Alpha Bidet's long awaited entry into the world of smart toilets - and it is quickly becoming a fan favorite. The UXT Pearl is perfect for those looking for a gorgeous bidet toilet combo that is packed with high end features, backed by an American company, and won't cost an arm and a leg.
The UXT Pearl features a one piece design that is ultra low profile while still maintaining a healthy seat height. Adding to its luxe design is a white, in-bowl LED night light and a distinctive halo LED light that borders its side control knob. Along with aesthetics that rival the highest end of smart toilets, the Alpha UXT Pearl is packed with some of the most advanced technology on the market today. These features include an arced stainless steel nozzle that is designed to reduce splash back and contamination, an air plasma generator that sanitizes and freshens the toilet bowl, a host of customizable shortcut functions and presets, and a capacitive touch foot sensor.
The Alpha UXT Pearl ranks highly on our list due to its impressive bidet functionality, customizability, build quality, 3 year warranty and affordable price. However, because it's still a newer model, long term reliability is still to be determined. That being said, Alpha Bidet has an excellent track record of producing quality bidets.
#1 TOTO Neorest AH MS989CUMFG#01 [and Neorest RH MS988CUMFG#01]  
And lastly, the number one bidet toilet combination on the market is the TOTO Neorest AH and its sister, the Neorest RH. Coming in two variations, the Neorest AH and RH share the same features and functions and only differ in design. Whereas the RH has a more rounded design, the AH model offers sharper lines with a unibody lid. Whichever you prefer, know that you are getting the pinnacle of smart toilet design.  
TOTO's name exudes quality and the Neorest AH and RH embody that to the fullest degree. For lack of a better description, these are the best smart toilets money can buy. They feature TOTO's eWater+ system to sanitize the nozzle as well as the toilet bowl. They have LED nightlights, excellent flushing performance, and the full gamut of luxury bidet features. Both cleansing and drying performance are well above average and TOTO uses a variety of ceramic coatings and pre-misting to help keep the bowl clean.
But, beyond its many functions and features, what really sets TOTO's Neorest series apart from the pack is the superior build quality. TOTO built its name on smart toilet technology and the AH and RH ooze quality inside and out. They are covered by a 3 year warranty and the only downside to them is the high price tag. Are they very expensive and meant for luxury applications? Yes. But, are you getting enough performance and quality to justify? We certainly believe so.
While we could only select 5 models for our best smart toilets list, we felt the need to mention some other notable options on the market.
TOTO Neorest NX1 / NX2: Yes, TOTO does make an even more outrageous set of smart toilets with even more luxury appeal above the AH and RH. However, we couldn't add them to our list due to the equally outrageous price tags associated with them ($9,000 - $16,000).
Kohler Eir: Kohler's newest smart toilet, the Eir, is another visual treat to behold. It's loaded with high end features, but it's still very new to the market and we are awaiting more feedback before we can determine its value.
Not Ready for a Fully Integrated Smart Toilet?

Build a Custom Bidet Toilet Combo
 
Build your own custom bidet toilet combination with the bidet seat functionality you really want. We've taken the guesswork of toilet fitment out of the equation and partnered with a leading toilet manufacturer to bring you an innovation exclusively from BidetKing.com.  
The TOTO Washlet+ system pairs a Washlet+ seat with a TOTO T40 style toilet and blends them seamlessly to give you the full luxury bidet experience, but at a much more affordable price than the fully integrated TOTO Neorests.
It neatly conceals the electrical cord and water supply hose through a hole in the toilet bowl for a sleek, modern look. Consider the TOTO Washlet + system as a bridge between adding a bidet seat to a regular toilet and a fully integrated bidet toilet.
Our Smart Toilet Comparison Chart



Smart Toilets vs Bidet Toilet Seats: What's the Difference?


Smart toilets, aka integrated bidet toilet combos, and bidet toilet seats are great options for those looking to enhance their bathroom experience and bring their home's bathroom into the 21st century. However, it is important to note that each type of bidet, while similar in features, has their own pros and cons. For some users, a fully integrated smart toilet would be the best option to upgrade their bathroom. For others, simply adding a bidet toilet seat to their existing toilet would be preferrable. In either case, the cleansing upgrade over toilet paper is immeasurable. Let's take a look at some key similarities and differences.
Key Similarities
Features
As mentioned above, bidet toilet combos and bidet toilet seats have many of the same features. Common features you will find in both types of bidets include on demand-continuous warm water, front and rear washing, heated seat, warm air dryer, adjustable spray pressure, adjustable nozzle position, deodorizer, nozzle sterilization, and more. Essentially, any feature that isn't related to the actual flushing of the toilet is generally available in bidet toilet seats.
Cleansing and Drying Experience
Bidet toilet combos and bidet seat attachments both offer the same cleansing and drying experience. Both types of bidets will have a rear and front femine wash cycle with the ability to adjust the spray pressure, water temperature, and nozzle position. The warm air dryer will also be similar between the two types of bidets. You will be able to adjust the temperature of the warm air dryer in both smart toilets and bidet seats. There's no difference in terms of spray pressure, volume, or quality between the two.
Key Differences
Features
Bidet toilet combos will usually come standard with luxury features not typically found on bidet seat attachments. Some of these features include automatic flushing, automatic open-close seat/lid, and foot sensors/kick flush capabilities. An automatic open-close seat/lid is found on a few select bidet toilet seats (Bio Bidet Discovery DLS, TOTO Washlet S550e), but automatic flushing is reserved for bidet toilet combos. Foot/kick sensors are used to control the opening of lids/seats and flushing so those are also only found on smar toilets.
Design
Although both types of bidets have similar features, a bidet toilet combo has the advantage of having a more streamlined and luxurious appearance when compared to a bidet seat. A bidet toilet combo has the ability to transform your bathroom into a modern, striking, and aesthetically pleasing room - one in which the toilet itself is the main attraction. Because the upper bidet half and lower toilet bowl are made for each other, the fit and design are typically immaculate.  
Installation
Installing a full smart toilet requires more time, effort, and planning when compared to a bidet toilet seat. Whereas a bidet seat can usually be installed by anyone handy within 20-30 minutes, a bidet toilet combo usually needs professional installation. This is due to the nature of a bidet toilet combo being an integrated unit which requires you to replace your whole toilet. Installing a bidet seat will only require you to remove your existing toilet seat and lid and replace it with the bidet seat attachment using the provided mounting hardware. This significantly reduces the amount of time and effort required during the installation process. Smart toilets are most easily installed during bathroom renovations, but thanks to their standard 12" rough-ins,
Price
Bidet toilet combos are more typically more expensive than bidet seats. A good quality smart toilet usually starts around $1,800 and can go upwards of $15,000. By contrast, an electric bidet seat can range anywhere from $200 to $1,200.