15% Off TOTO Washlets w/ Coupon:
WASHLET
---
Description
The TOTO WASHLET C2 Elongated Electric Bidet Toilet Seat with PREMIST delivers ecology-minded luxury with a streamlined design. The TOTO WASHLET C2 Elongated Electric Bidet Toilet Seat quickly provides comfortable warm water cleansing at the touch of a button. Part of the newly redesigned C Series, the WASHLET C2 is fully automated, featuring a soft rear spray, rear cleanse, and front cleanse with the option of an oscillating stream.
The TOTO WASHLET C2 is the new and improved version of the TOTO WASHLET C100.  It features a new slimmer profile, EWATER+ and updated control panel.  EWATER+ mists the wand and bowl reducing the for cleaning chemicals.  The updated control panel allows for complete increased control.
California residents see Prop 65 WARNINGS
SKUS

SW3074#01 C2 Cotton White
SW3074#12 C2 Sedona Beige
*ELONGATED SIZE ONLY*
The controls are located on a convenient side panel. The PREMIST function sprays the bowl with water before each use, preventing waste buildup and keeping the toilet bowl clean.  The C2 WASHLET features a heated SoftClose seat with three temperature settings. The temperature and pressure of the water are adjustable with three temperature settings and five pressure settings. The WASHLET features an air deodorizer and a warm air dryer with three temperature settings.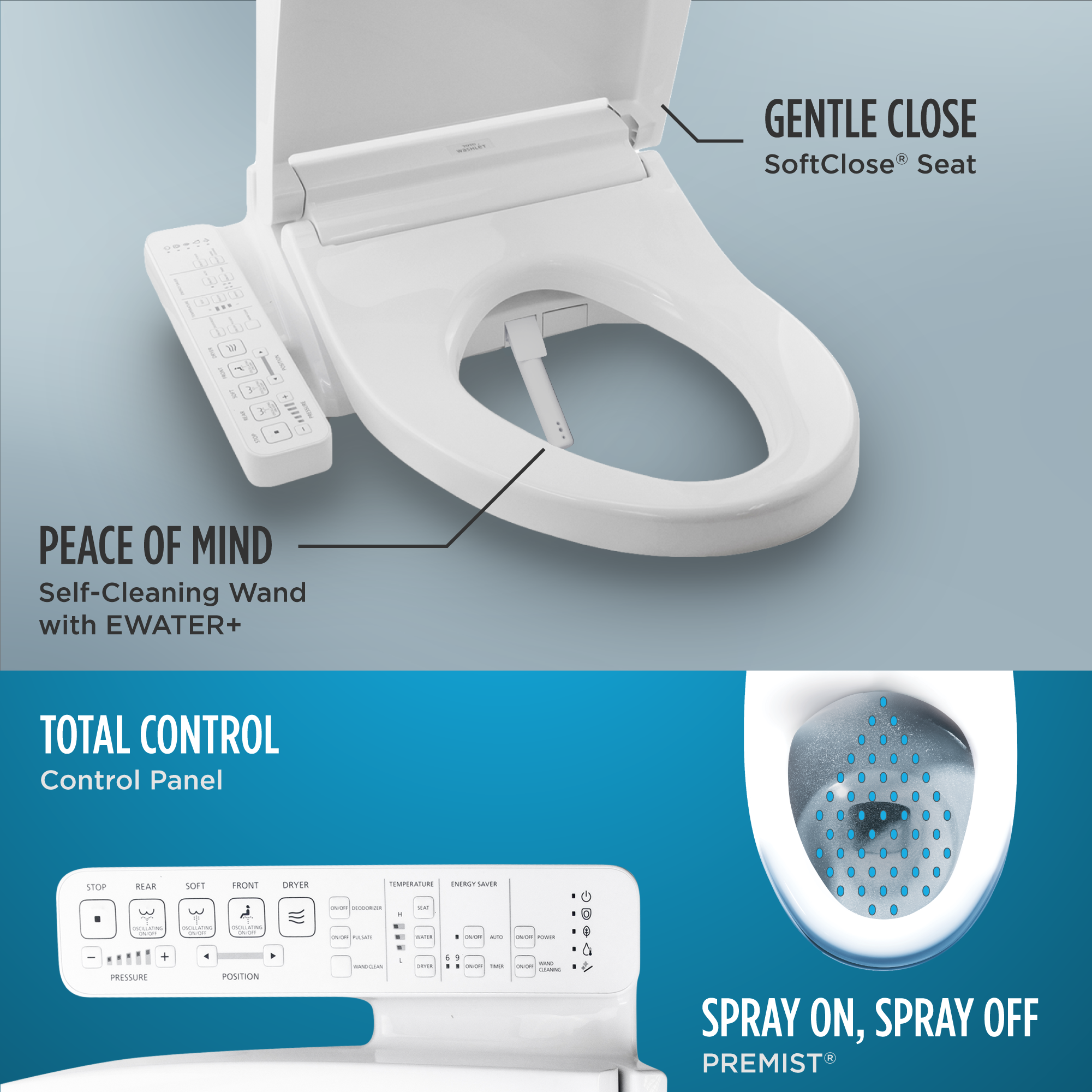 Self-Cleaning Wand with EWATER+
After each flush, EWATER+ mists on the wand and toilet bowl, reducing the need for harsh cleaning chemicals
Features
- High-tech electronic bidet seat
- Concealed supply connection for a seamless installation
- Gentle Aerated, Warm Water, Dual Action Spray with oscillating and pulsating feature
- Adjustable water temperature and volume
- Warm air drying with three variable temperature settings
- Automatic air deodorizer
- Convenient arm control panel
- Docking Station for easy to cleaning and installation
- Heated Seat with Temperature Control
- EWATER+ auto-cleans the wand
- Water PREMIST of bowl before each use
Specifications
Power Rating

AC 120 V 60 Hz

Power Consumption

403W

Max Power
Consumption

512W

Power Cord Length

3.93 ft (1.2 m)

Spray Volume

Rear Cleansing:
0.07 – 0.11 gal/min
Rear Soft Cleansing:
0.07 – 0.11 gal/min
Front Cleansing:
0.08 – 0.11 gal/min

Spray Features

Adjustable Surface Temp:
95 – 104 ºF (35 – 40 ºC)
Safety Device:
Temperature Fuse
Warm Air
Dryer Features
Adjustable Air Temp:
95 – 140 ºF (35 – 60 ºC)
Airflow Volume:
8.83 ft3/min (0.25 m3/min)
Safety Device:
Temperature Fuse
Heated Seat
Features
Adjustable Surface Temp:
82 – 97 ºF (28 – 36 ºC)
Safety Device:
Temperature Fuse
Water Supply
Pressure
Minimum:
7.25 PSI (Dynamic)
Maximum:
108.75 PSI (Static)

Ambient Temp.

32 – 104 ºF (0 – 40 ºC)

Warranty

One Year Limited Warranty

Shipping Weight

SW3074:
16.0 lbs
Shipping
Dimensions
SW3074
23-5/8"L x 20-3/4"W x 7-5/8"H
Product Spec Sheet
Users Manual
Warranty
One year limited manufacturer warranty
Fitment and Installation Guides
Want to know if your toilet is compatible with bidet seats? Or curious about installation process? Here are some helpful resources:
Love Our Toto Washlets
We've been using out TOTO washlets for just over 3 years now and have been very pleased with their performance and their reliability. We initially purchased an E5xx for our master bath and now have two C100's and the new C2. The washlets all work well, the controls are simple to understand and the docking feature allows one-button removal from the toilet for cleaning. The controls on the C2 are consistent with our other washlets and are easy to understand for guests. I was also very leased with the quick delivery of our order from BidetKing. Must be shipped from local warehouses because we received ours just two days from our order and we live in SE Michigan. One thing we have been pleased about is that Toto seems to be constantly improving their products. It was difficult to seal the "T-Fitting" that supplies water to the Bidet on the early models. The new T-Fitting that is used on the C2 is much easier to install and seals perfectly. Our experience with Toto has been great.
TOTO WASHLET C2 Bidet
It's been a month and this bidet is incredible. Wife was hesitant but now loves it.
We opted for no remote control, another thing to loose and be concerned about; "OOpps" splash.
Your company shipped very fast and everything was perfect.