Description
The TOTO WASHLET C2 Elongated Electric Bidet Toilet Seat with PREMIST delivers ecology-minded luxury with a streamlined design. The TOTO WASHLET C2 Elongated Electric Bidet Toilet Seat quickly provides comfortable warm water cleansing at the touch of a button. Part of the newly redesigned C Series, the WASHLET C2 is fully automated, featuring a soft rear spray, rear cleanse, and front cleanse with the option of an oscillating stream.
The TOTO WASHLET C2 is the new and improved version of the TOTO WASHLET C100.  It features a new slimmer profile, EWATER+ and updated control panel.  EWATER+ mists the wand and bowl reducing the for cleaning chemicals.  The updated control panel allows for complete increased control.
California residents see Prop 65 WARNINGS
SKUS

SW3074#01 C2 Elongated Cotton White
SW3073#01 C2 Round Cotton White
SW3074#12 C2 Elongated Sedona Beige
SW3073#12 C2 Round Sedona Beige
The controls are located on a convenient side panel. The PREMIST function sprays the bowl with water before each use, preventing waste buildup and keeping the toilet bowl clean.  The C2 WASHLET features a heated SoftClose seat with three temperature settings. The temperature and pressure of the water are adjustable with three temperature settings and five pressure settings. The WASHLET features an air deodorizer and a warm air dryer with three temperature settings.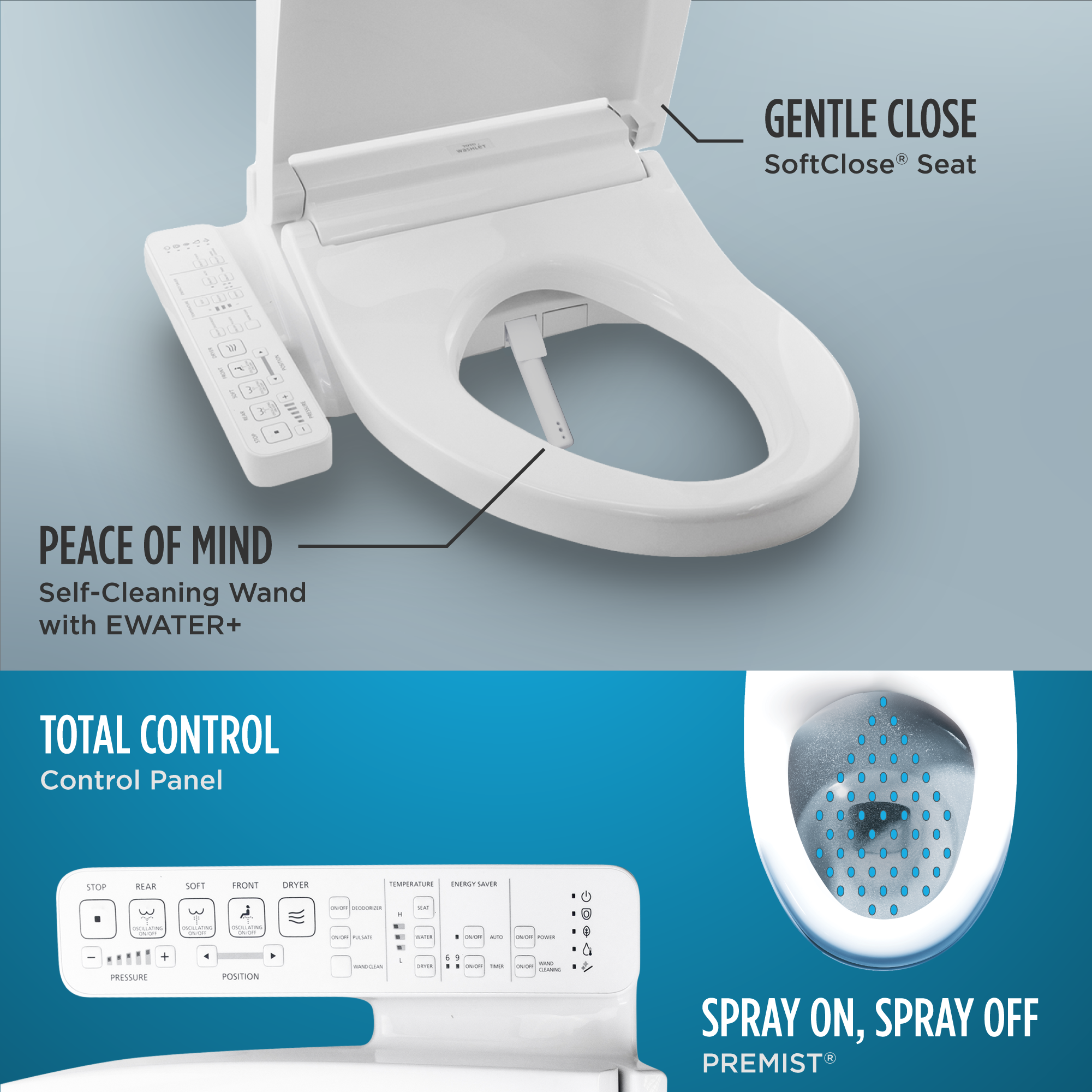 Self-Cleaning Wand with EWATER+
After each flush, EWATER+ mists on the wand and toilet bowl, reducing the need for harsh cleaning chemicals
Features
- High-tech electronic bidet seat
- Concealed supply connection for a seamless installation
- Gentle Aerated, Warm Water, Dual Action Spray with oscillating and pulsating feature
- Adjustable water temperature and volume
- Warm air drying with three variable temperature settings
- Automatic air deodorizer
- Convenient arm control panel
- Docking Station for easy to cleaning and installation
- Heated Seat with Temperature Control
- EWATER+ auto-cleans the wand
- Water PREMIST of bowl before each use
Specifications
Power Rating

AC 120 V 60 Hz

Power Consumption

403W

Max Power
Consumption

512W

Power Cord Length

3.93 ft (1.2 m)

Spray Volume

Rear Cleansing:
0.07 – 0.11 gal/min
Rear Soft Cleansing:
0.07 – 0.11 gal/min
Front Cleansing:
0.08 – 0.11 gal/min

Spray Features

Adjustable Surface Temp:
95 – 104 ºF (35 – 40 ºC)
Safety Device:
Temperature Fuse
Warm Air
Dryer Features
Adjustable Air Temp:
95 – 140 ºF (35 – 60 ºC)
Airflow Volume:
8.83 ft3/min (0.25 m3/min)
Safety Device:
Temperature Fuse
Heated Seat
Features
Adjustable Surface Temp:
82 – 97 ºF (28 – 36 ºC)
Safety Device:
Temperature Fuse
Water Supply
Pressure
Minimum:
7.25 PSI (Dynamic)
Maximum:
108.75 PSI (Static)

Ambient Temp.

32 – 104 ºF (0 – 40 ºC)

Warranty

One Year Limited Warranty

Shipping Weight

SW3074:
16.0 lbs
Shipping
Dimensions
SW3074
23-5/8"L x 20-3/4"W x 7-5/8"H
Product Spec Sheet
Users Manual
Warranty
One year limited manufacturer warranty
Fitment and Installation Guides
Want to know if your toilet is compatible with bidet seats? Or curious about installation process? Here are some helpful resources:
Happy Wife
The person who helped me on the Chat line was very helpful to make sure i had the correct one that would fit on my existing round toilet. I received it within a few days of placing the order which was just in time for Christmas.
The Bidet was very easy to install. The instructions were easy and simply to follow. My wife is very happy with it. If i was to do it again, i would replace the round toilet with an elongated one and get a elongated bidet.
Amazing life changing product.
This bidet takes care of everything I need, from having a dryer to getting rid of any odors. It was the most important purchase in my new apartment. I cannot be happier and can only imagine what additional features the more expensive models would have!!
TOTO WASHLET C2 SW3074
Item delivered on a timely basis with no shipping damages.
Having used a smaller manual product for 30 years, this unit doesn't have the
water pressure that the older units had. This unit requires 2 or 3 cleaning cycles to more properly remove residue. The dryer function is a novelty, but don't rely on it for complete drying.
When looking to the right to see the control panel, the unit shuts off until I make a concerted effort to put more weight on the right side so that the pressure switch reengages. I have already sent a recommendation to ToTo's customer service about this. The pressure switch should be on the left side instead of the right side.
The unit works as advertised and I am satisfied with it.
C2 bidet
One of the best, For senior citizens, young person will prefer the remote, for senior it's all built in and they can control the action needed, my mom really loves it
TOOOO Smooth
Simple to install, less than 5 min. The unit will do everything,but pull up your pants. Great addition to our family.